Buildings, beyond being bricks and mortar, unfold stories etched in steel and glass, tales of human ambition, creativity, and, let's be honest, pocketbooks that might be the envy of Midas himself. In the dynamic world of architecture, where innovation meets opulence, we find the most expensive buildings standing tall and proud, dazzling symbols of economic prowess and visionary design. Let's look at the world's top 10 most expensive buildings in 2023 – Awe-inspiring architectural wonders that redefine skylines and challenge financial limits.
1. Masjid al-Haram – Divine Dollars in Mecca
In the heart of Mecca, Saudi Arabia, amidst the desert sands and spiritual fervour, stands the awe-inspiring Masjid al-Haram—a sanctuary that transcends both architectural and spiritual dimensions. Obliterating the competition for the top spot on the worlds most expensive building list – This iconic mosque, with an estimated cost of a staggering $100 billion, is not just a building; it's a divine masterpiece that has become the symbol of Islamic unity and faith. With a jaw-dropping capacity to accommodate 4 million worshipers, Masjid al-Haram isn't just the most expensive building globally; it's a testament to the immensity of both religious devotion and financial investment.
Did you know: Masjid al-Haram is not just a mosque; it's the epicentre of Hajj and Umrah, the two pilgrimages every Muslim aspires to undertake. Imagine a place so sacred that millions converge to circumambulate the Kaaba, performing rituals that have been part of Islamic tradition for centuries – making it a spiritual beacon for Muslims worldwide.
Home to significant sites such as the Black Stone, Zamzam Well, Maqam Ibrahim, and the hills of Safa and Marwa, Masjid al-Haram is not merely a structure; it's a sacred space where the echoes of prayers reverberate through the ages. Beyond its colossal cost, this mosque is a living testament to the enduring power of faith and the boundless lengths nations will go to create spaces that connect people to something greater than themselves.
---
2. Abraj Al Bait – Towering Tales in Mecca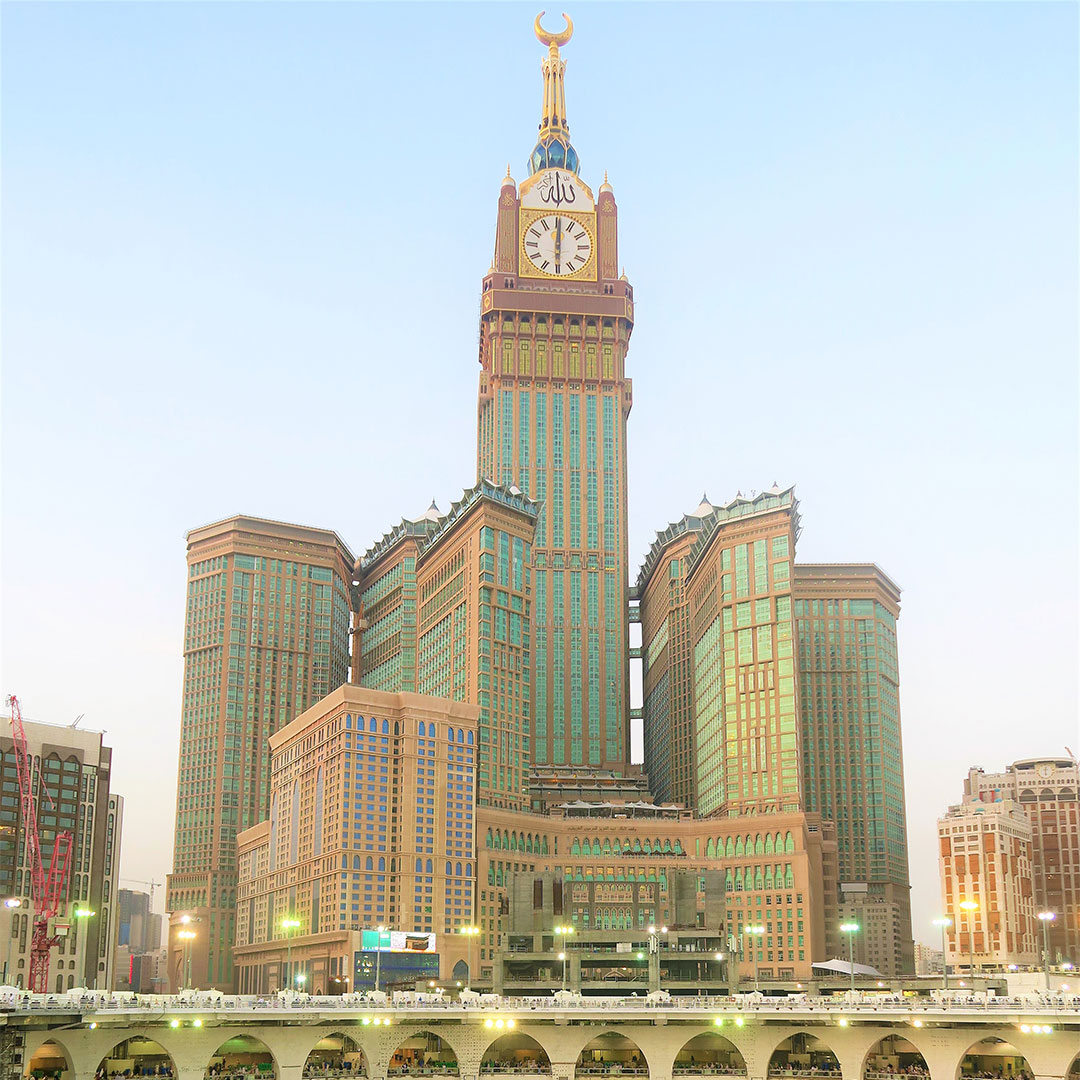 In the bustling city of Mecca, Saudi Arabia, where history meets modernity, the colossal Abraj Al Bait stands tall, not just in height but in its economic prowess. Costing a jaw-dropping $16 billion, this architectural marvel comes in second on the most expensive buildings list globally, only surpassed by the divine sanctuary of Masjid al-Haram. The Abraj Al Bait complex, consisting of seven skyscrapers, is not just a testament to human engineering; it's a state-owned project born from the King Abdulaziz Endowment Project, aiming to modernize Mecca for its pilgrims.
Did you know: At the heart of Abraj Al Bait, the Mecca Clock Royal Tower doesn't just keep time; it boasts the world's largest clock face. Picture this: a clock so enormous that it's visible from miles away, a symbol not just of timekeeping but of the grandeur and precision woven into the fabric of this architectural gem.
This complex is more than a collection of towering structures; it's a multifaceted project that includes the Clock Tower Museum, perched atop the Mecca Clock Royal Tower. Beyond its financial splendour, Abraj Al Bait is a beacon of modernization, combining tradition and innovation to serve the millions who pilgrimage to Mecca annually. As these towers pierce the Meccan skyline, they do more than cast shadows; they stand as a testament to the harmonious blend of spirituality and economic might.
---
3. Marina Bay Sands – Sky-High Splendour in Singapore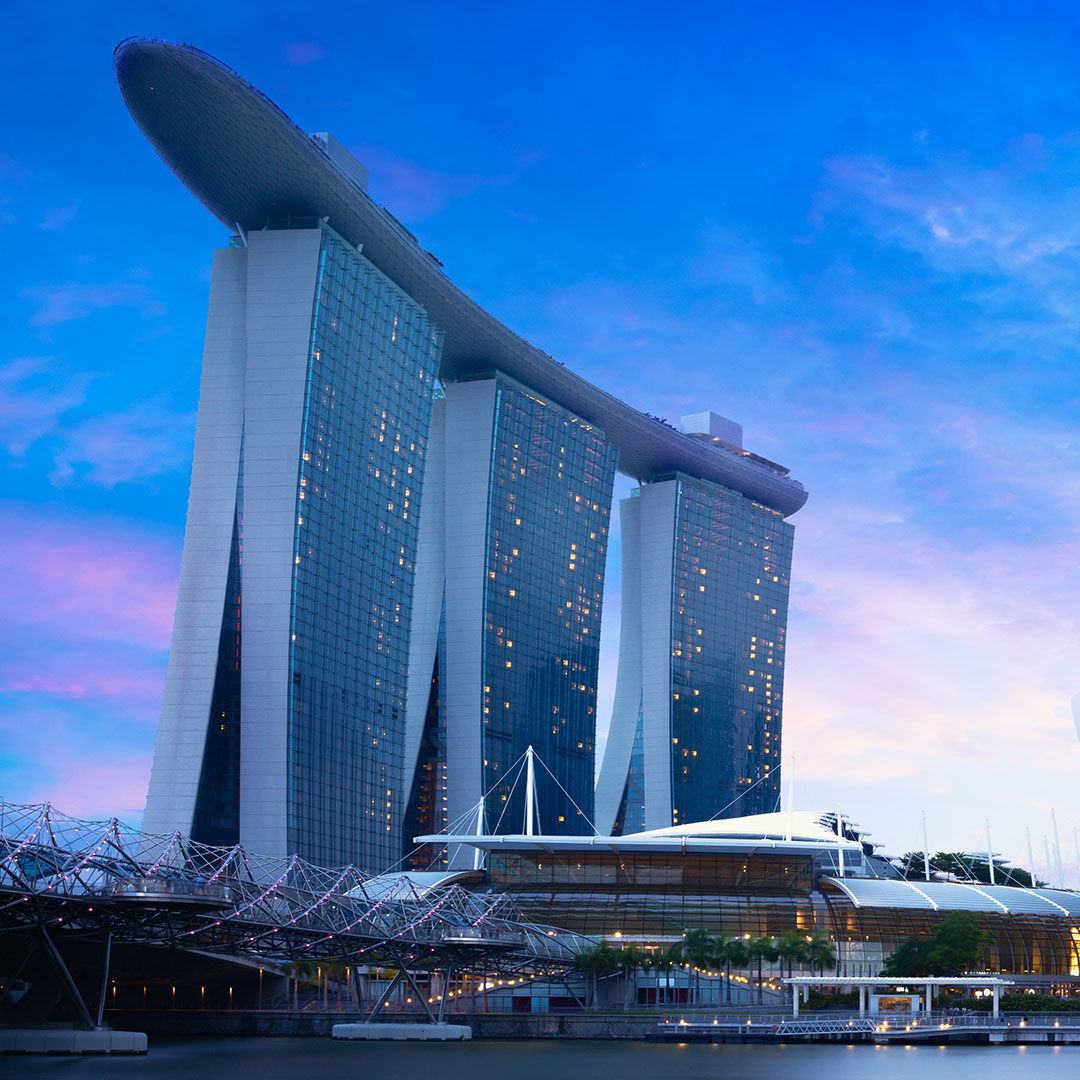 In the heart of the dazzling Bayfront Subzone in Singapore's Downtown Core, the iconic Marina Bay Sands stands as a testament to architectural innovation and opulence. This integrated resort, with an estimated cost of $5.5 billion, is not just a building; it's a city within a city, a playground for the affluent, and a marvel that redefines luxury living. Owned by the Las Vegas Sands Corporation, Marina Bay Sands opened its doors in 2010, proudly claiming the title of the world's most expensive standalone casino property at the time, with a staggering price tag of US$6.88 billion, including the land.
Did you know: Marina Bay Sands isn't just about blackjack tables and slot machines. Perched atop the three towers is the SkyPark, a gravity-defying platform that houses a 150-meter infinity swimming pool. Imagine taking a dip in the world's largest rooftop pool, high above the city, with the Singapore skyline as your breath taking backdrop.
The resort, with its 2,561-room hotel, convention-exhibition centre, Marina Bay Sands Mall, theatres, and more, is a microcosm of extravagance. The interconnected towers, crowned by the gravity-defying SkyPark, redefine the skyline and the very notion of what a modern city can offer. Marina Bay Sands isn't just a building; it's an experience, an embodiment of Singapore's commitment to pushing boundaries and reaching new heights – both literally and figuratively.
---
4. Apple Park – Where Innovation Meets Extravagance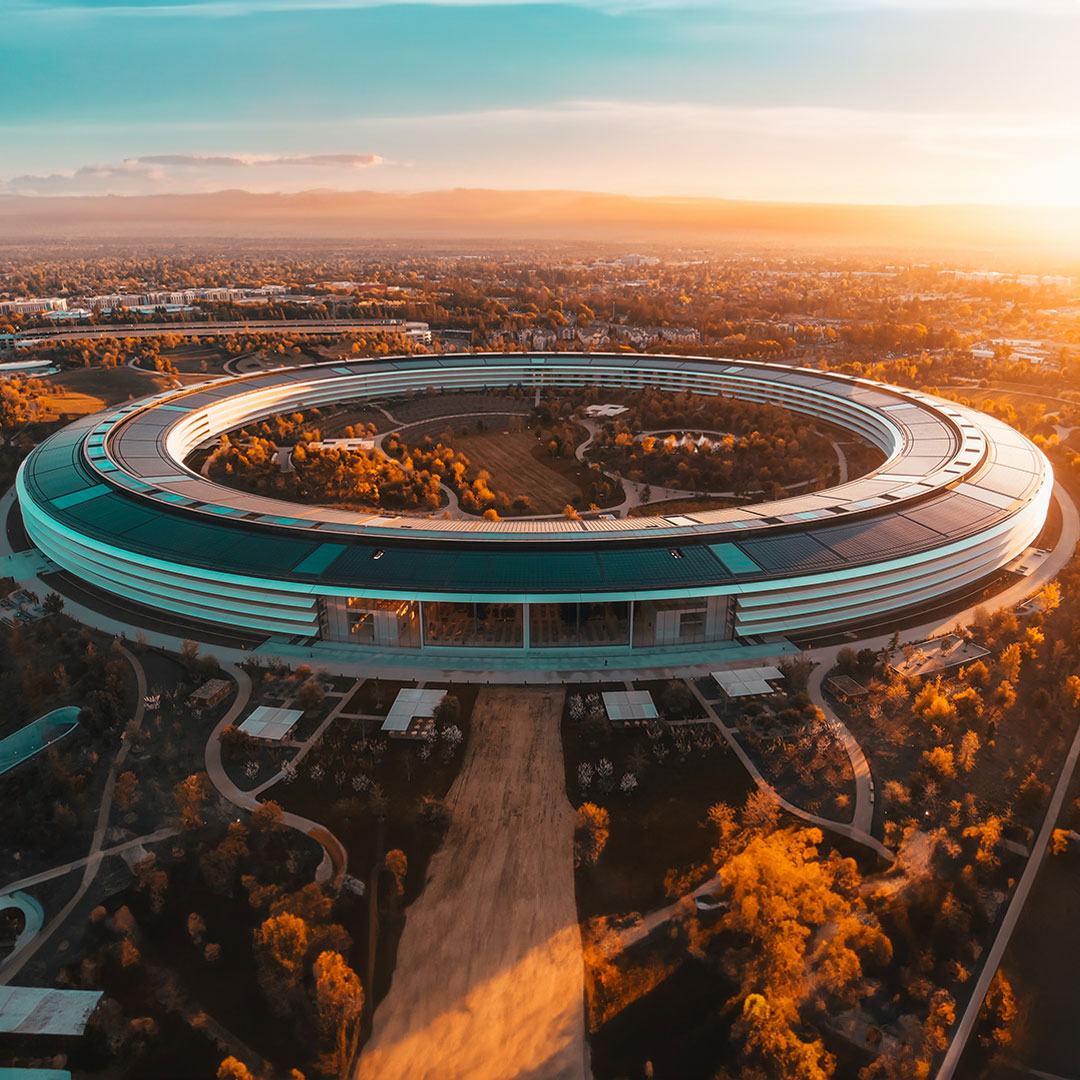 In the sunny landscapes of Cupertino, California, a circular marvel stands as a testament to the marriage of technology and design – presenting the illustrious Apple Park, Apple Inc.'s corporate headquarters. But hold on to your iPhones because this ain't your typical office space. With an estimated cost of $5 billion, Apple Park isn't just a workplace; it's a grandiose statement, an architectural masterpiece envisioned by the legendary Norman Foster.
Did you know: Welcome to the "Spaceship" – the affectionate nickname given to Apple Park, and for good reason. The main building, spanning a whopping 64 acres, is a circular groundscraper that accommodates over 12,000 employees. It's not just a workplace; it's an ecosystem designed to foster creativity and collaboration, making it a hub where innovation takes flight. Move over, Silicon Valley; Apple Park is the new epicentre of tech brilliance.
The headquarters opened its doors to Apple aficionados in April 2017, before the dust of construction fully settled. Nestled on 1.46 km of suburban bliss, Apple Park isn't just a campus; it's a manifestation of the brand's commitment to sleek aesthetics and cutting-edge technology. So, whether you're an Apple enthusiast or just looking to glimpse into the future, Apple Park is the space-age workplace that dreams are made of.
---
5. Resorts World Sentosa – Singapore's Billion-Dollar Wonderland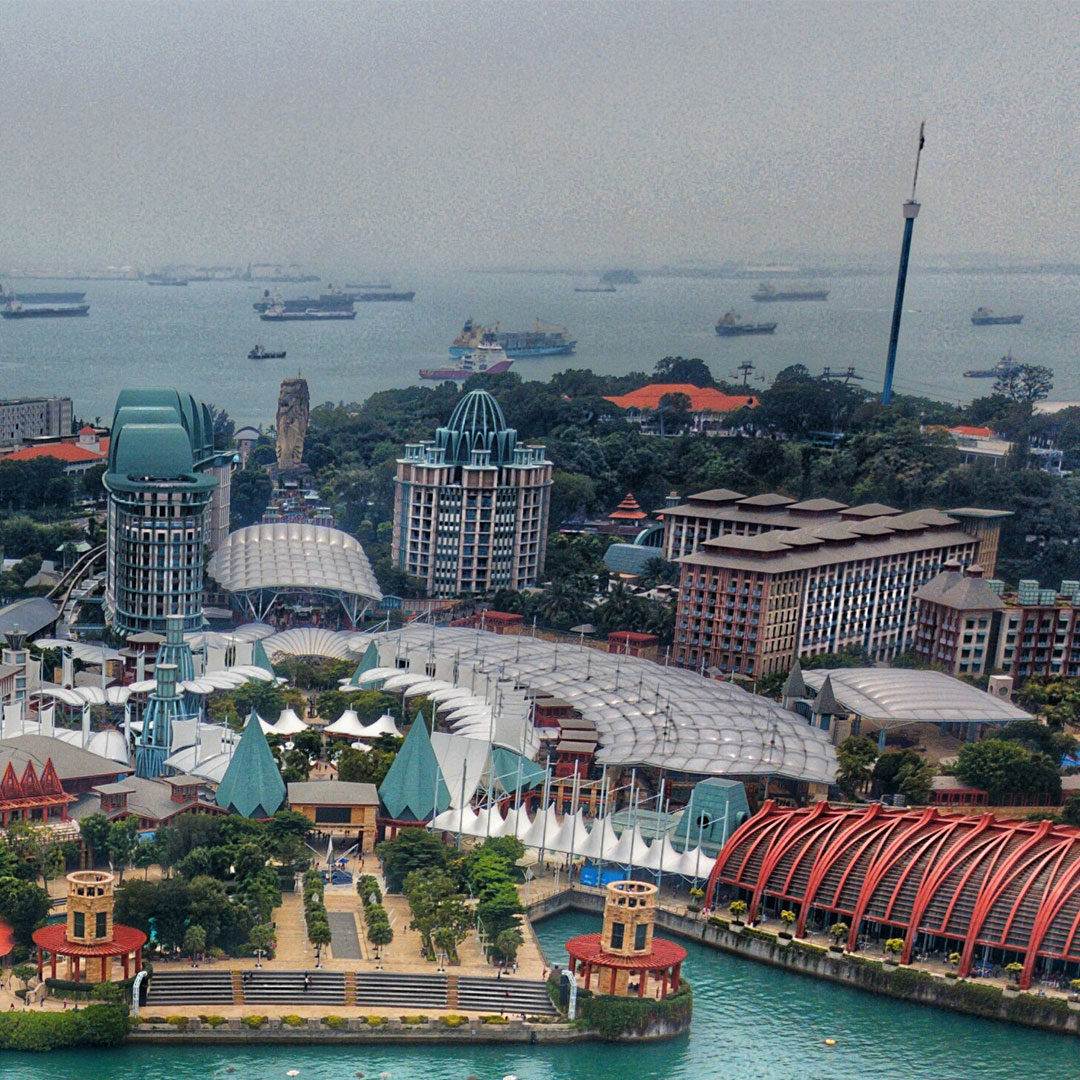 Dive into the vibrant landscape of Sentosa Island, where extravagance meets entertainment in the form of Resorts World Sentosa. This integrated resort, located at 8 Sentosa Gateway, Singapore, is not just a destination; it's a $4.93 billion testament to luxury and leisure. Conceived in 2006 and brought to life by Genting Singapore, Resorts World Sentosa is a spectacle that redefines the boundaries of opulence.
Did you know: Resorts World Sentosa isn't just a resort – it's a miniature universe of entertainment. Boasting a price tag of $4.93 billion, it's home to not one, but two casinos, a Universal Studios Singapore theme park, and Southeast Asia's inaugural Adventure Cove Waterpark. It's a playground for the adventurous, a haven for thrill-seekers, and a treasure trove for those seeking the ultimate in luxury and leisure.
Opened in 2010, Resorts World Sentosa isn't merely a building; it's an empire spread across 50 hectares of sun-soaked land. From the soft launch of the first four hotels in January 2010 to the grandeur of the Festivewalk Shopping Mall in February, every inch of this resort screams indulgence. With a workforce of up to 15,000 people, Resorts World Sentosa isn't just a getaway; it's an entire city of dreams nestled within the heart of Singapore.
---
6. Wynn Palace – Macau's $4.2 Billion Extravaganza
Nestled in the vibrant landscape of Cotai, Macau, Wynn Palace isn't just a building; it's a $4.2 billion masterpiece that defines luxury in the Special Administrative Region of China. From the moment you set foot in this opulent paradise, you're transported into a realm where every corner whispers tales of elegance and excess. With a soaring 28-story hotel boasting 1,706 rooms, suites, and villas, Wynn Palace isn't just an escape; it's a symphony of sophistication.
Did you know: Prepare to be dazzled by more than just chandeliers! Wynn Palace isn't your ordinary resort; it's an art gallery in itself. Renowned designer Preston Bailey adds a touch of magic with spectacular, large-scale floral displays, creating an immersive experience. From the unique Skycab to an 8-acre performance lake with choreographed displays of water, music, and light, Wynn Palace isn't just a destination; it's a sensory journey into unparalleled luxury.
Sprawling across approximately 424,000 square feet of casino space, this $4.2 billion marvel doesn't just offer entertainment; it crafts an experience. The Wynn brand, synonymous with luxury, has outdone itself with this integrated resort. From casual and fine dining restaurants to Macau's largest spa, every facet of Wynn Palace is designed to redefine your expectations of indulgence. So, whether you're trying your luck at the casino or revelling in the artistry of the floral displays, Wynn Palace invites you to a world where every moment is a celebration of opulence.
---
7. The Cosmopolitan – A $4.1 Billion Extravaganza on the Las Vegas Strip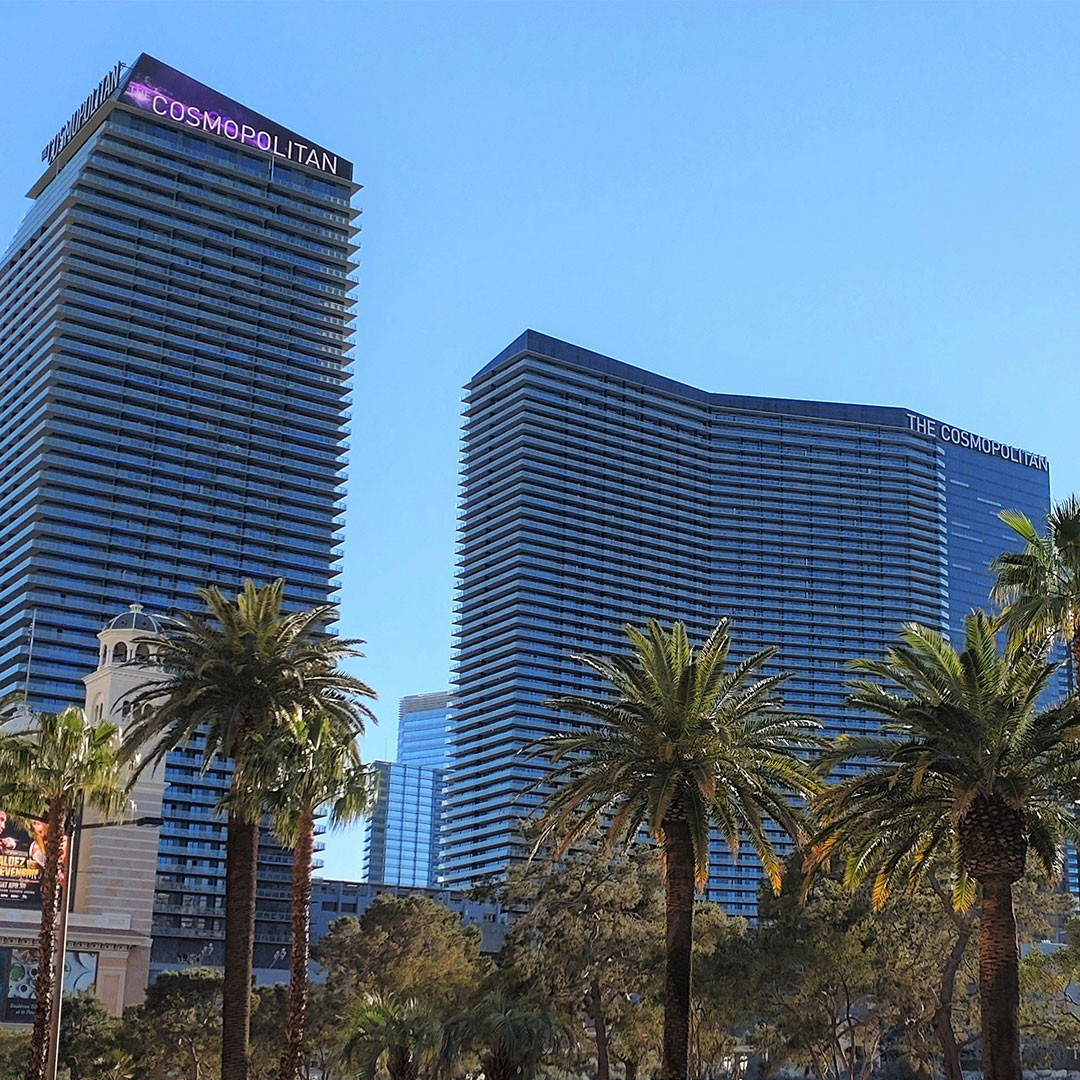 Welcome to the dazzling heart of Paradise, Nevada, where The Cosmopolitan reigns as a $4.1 billion jewel in the iconic Las Vegas Strip. Rising 184 meters into the desert sky, this luxury resort, casino, and hotel redefine the concept of entertainment. With not one but two tall towers – the Boulevard Tower and the Chelsea Tower – The Cosmopolitan isn't just a building; it's a vertical city of indulgence. Boasting 3,027 rooms, 110,000 square feet of casino allure, and a sprawling 300,000 square feet of retail and restaurant space, The Cosmopolitan invites you into a world where every moment is a gamble, and every corner tells a story of opulence.
Did you know: It's not just about rolling the dice! The Cosmopolitan isn't just a destination; it's a world-class theatre too. Picture this: a 3,200-seat theatre where entertainment takes centre stage, adding a touch of Broadway to the glamour of Las Vegas. It's not just a hotel; it's an experience that earned its stripes, being named "The Best Hotel in the World" by Gogobot in 2013.
Opened on December 15, 2010, south of the Bellagio, The Cosmopolitan isn't just a place to stay; it's a destination in itself. This $4.1 billion marvel isn't just about luxury; it's about redefining the very fabric of entertainment in the Entertainment Capital of the World. In 2015, The Cosmopolitan further solidified its status, earning a spot on the Condé Nast Traveller Gold List as one of the "Top Hotels in the World." So, whether you're trying your luck at the casino, enjoying a Broadway-worthy performance, or savouring culinary delights, The Cosmopolitan is a testament to how Las Vegas doesn't just do it; it does it with unparalleled flair.
---
8. One World Trade Center – A $3.9 Billion Beacon of Resilience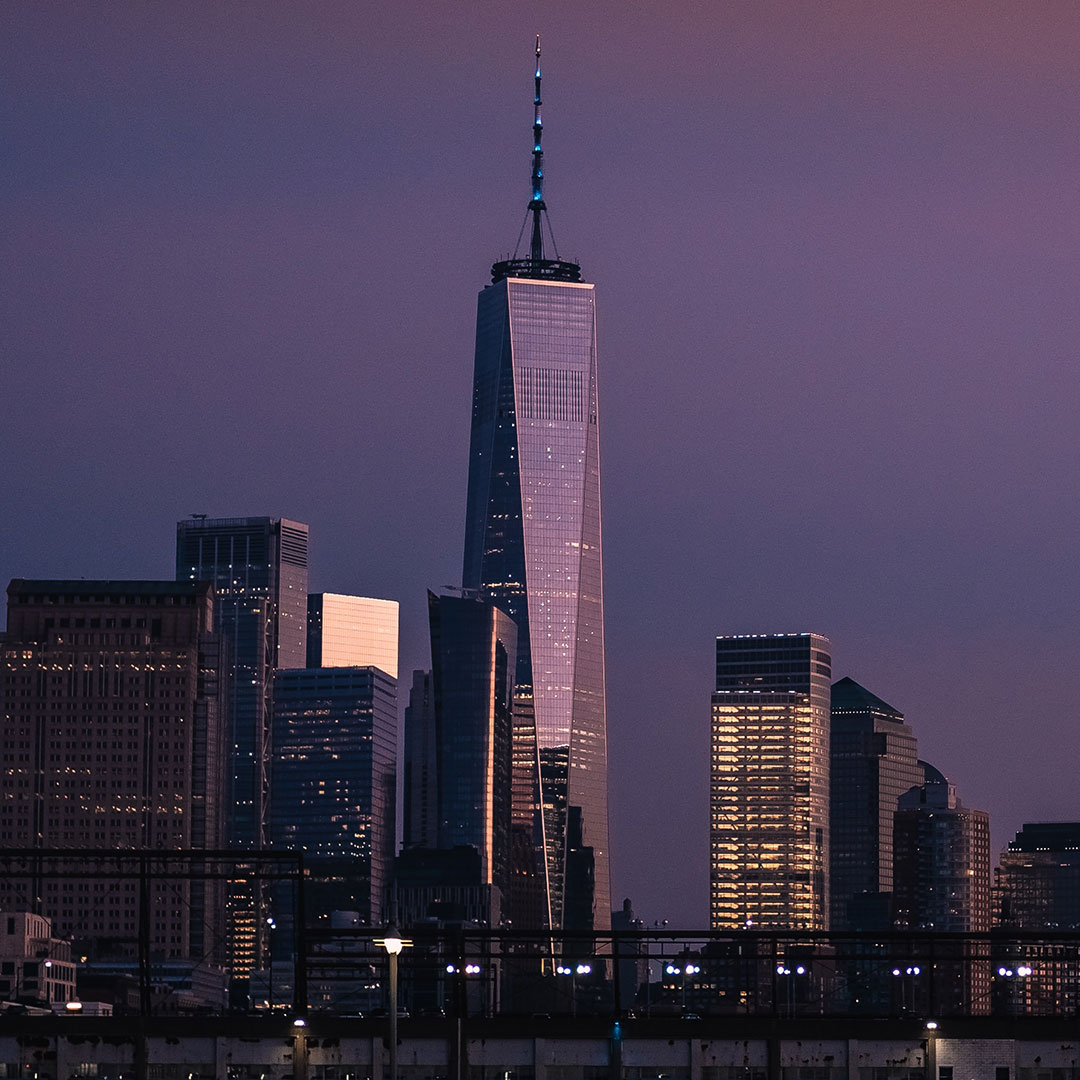 In the iconic skyline of Manhattan, the towering presence of One World Trade Center stands not only as a testament to architectural ingenuity but as a symbol of resilience and hope. Valued at $3.9 billion, this soaring skyscraper is more than just a building; it's a tribute to the strength of New York City and the indomitable spirit of its people. Rising majestically in Lower Manhattan, One World Trade Center holds the title of the tallest building in the United States and the seventh tallest globally, making it a beacon of economic and emotional significance.
Fun Fact: Did you know that One World Trade Center not only pierces the clouds but also the record books? In 2012, its estimated construction cost had risen to $3.9 billion, making it the most expensive building globally at that time. It's not just a tower; it's a symbol of resilience that stands tall, both literally and metaphorically.
Constructed as the main building of the World Trade Center complex, the initial cost estimate in February 2007 was around $3 billion. However, the final price tag of $3.9 billion, as of April 2012, reflects the challenges and intricacies involved in creating a structure that embodies hope and strength. Funded in part by the approximately $1 billion in insurance money received for losses in the September 11 attacks, One World Trade Center goes beyond being a skyscraper; it's a living testament to the power of rebuilding and moving forward.
---
9. Lotte World Tower – Seoul's Sky-High Marvel at $3.1 Billion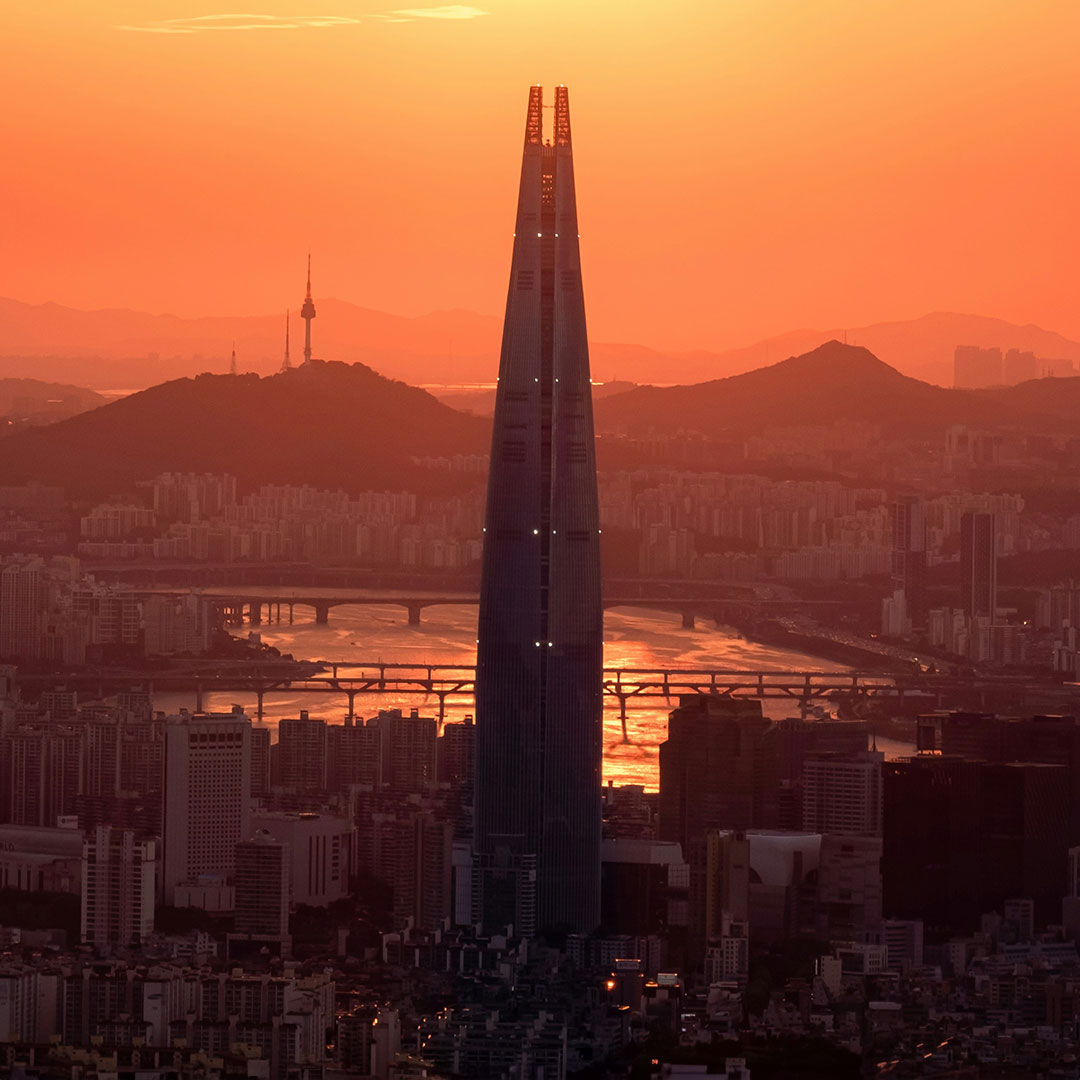 In the heart of Seoul's vibrant landscape, the Lotte World Tower reigns as a breath-taking testament to South Korea's architectural prowess and economic prowess. Soaring at 1,823 feet with 123 stories, this skyscraper stands tall in Sincheon-dong, Songpa District, making it not only the tallest building in South Korea but also the sixth tallest globally. With an estimated cost of $3.1 billion, the Lotte World Tower is a fusion of modern engineering and cultural aesthetics, embodying Seoul's commitment to reaching new heights.
Did you know: Lotte World Tower isn't just a towering structure; it's a visual feast inspired by Korean ceramics! The exterior, adorned with light-coloured glass and accents of metallic filigree, draws inspiration from traditional Korean craftsmanship, adding a touch of cultural elegance to its contemporary silhouette.
As a landmark of Seoul, Lotte World Tower doesn't merely pierce the skyline; it pierces through the conventional boundaries of architectural design. The conceptual design, featuring a tapered cone with gently curved sides, showcases a harmonious blend of modernity and tradition. Its completion marked a historic moment for South Korea, claiming its place as the first 100-story building in the country and the fourth tallest tower globally, demonstrating Seoul's ability to balance innovation and cultural heritage in one monumental structure.
---
10. Emirates Palace – A $3 Billion Oasis of Opulence in Abu Dhabi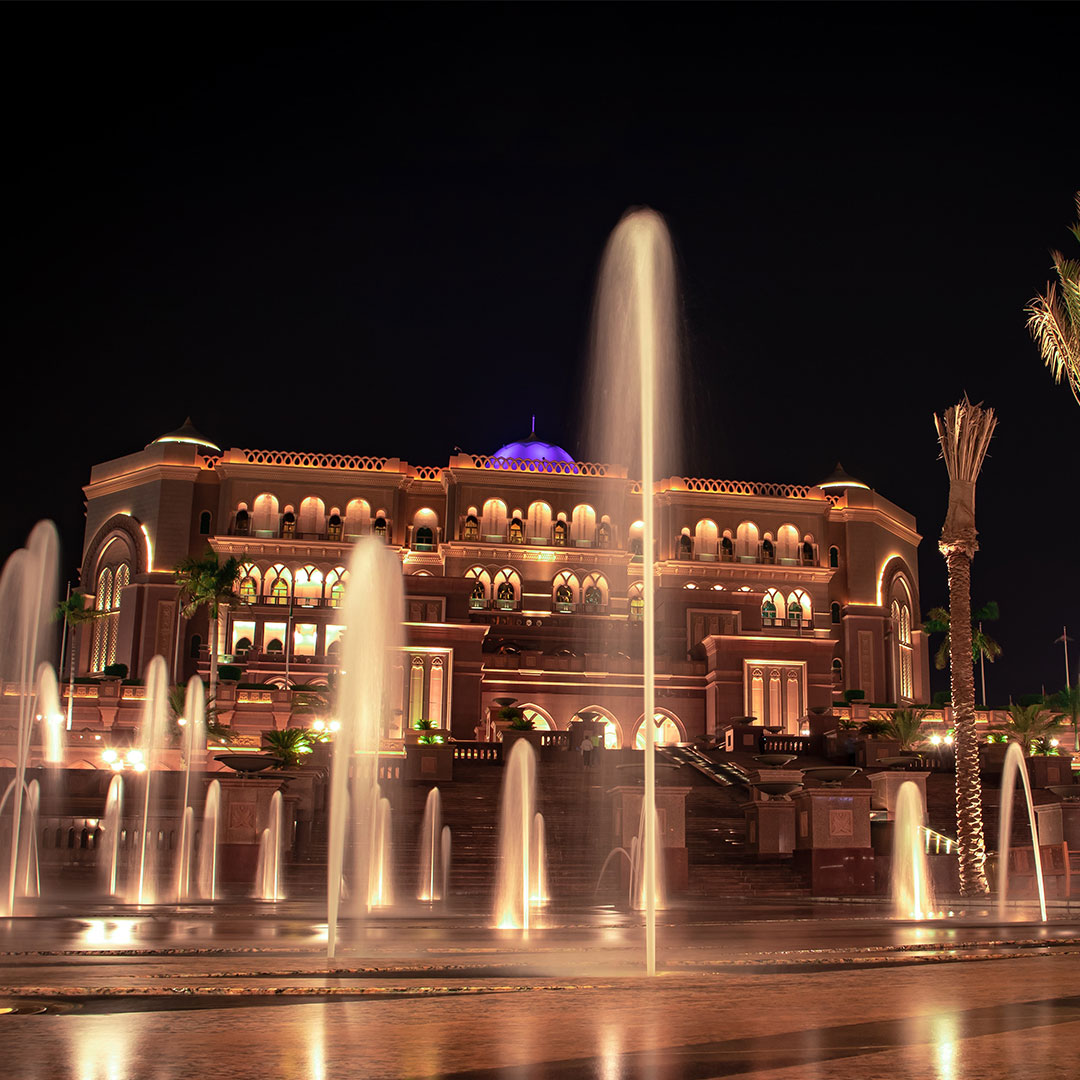 In the opulent city of Abu Dhabi, where luxury meets the desert landscape, stands the magnificent Emirates Palace—a true marvel that redefines extravagance. With an estimated cost of $3 billion, this five-star hotel, located in Ras Al Akhdar, is a symbol of grandeur and architectural splendour. The Emirates Palace project, launched in December 2001, showcases a blend of Islamic architectural elements and modern design, creating a harmonious oasis in the heart of the United Arab Emirates.
Did you know: Emirates Palace isn't just a hotel; it's a masterpiece inspired by the hues of the Arabian Desert! The central dome, adorned with elaborate geometric patterns, and 114 smaller domes scattered throughout the building, mimic the diverse shades of sand found in the Arabian Desert, adding a touch of nature's beauty to this man-made wonder.
From its opening in November 2005 until January 1, 2020, Emirates Palace was operated by Kempinski, leaving an indelible mark as one of the most expensive hotels ever constructed. Beyond its lavish accommodations, the hotel stands as a testament to the fusion of traditional aesthetics and modern luxury, making it a must-visit destination for those seeking an experience of regal sophistication in the heart of Abu Dhabi.
---
Australian Excellence: Royal Adelaide Hospital Just Misses the Top 10 Most Expensive Buildings List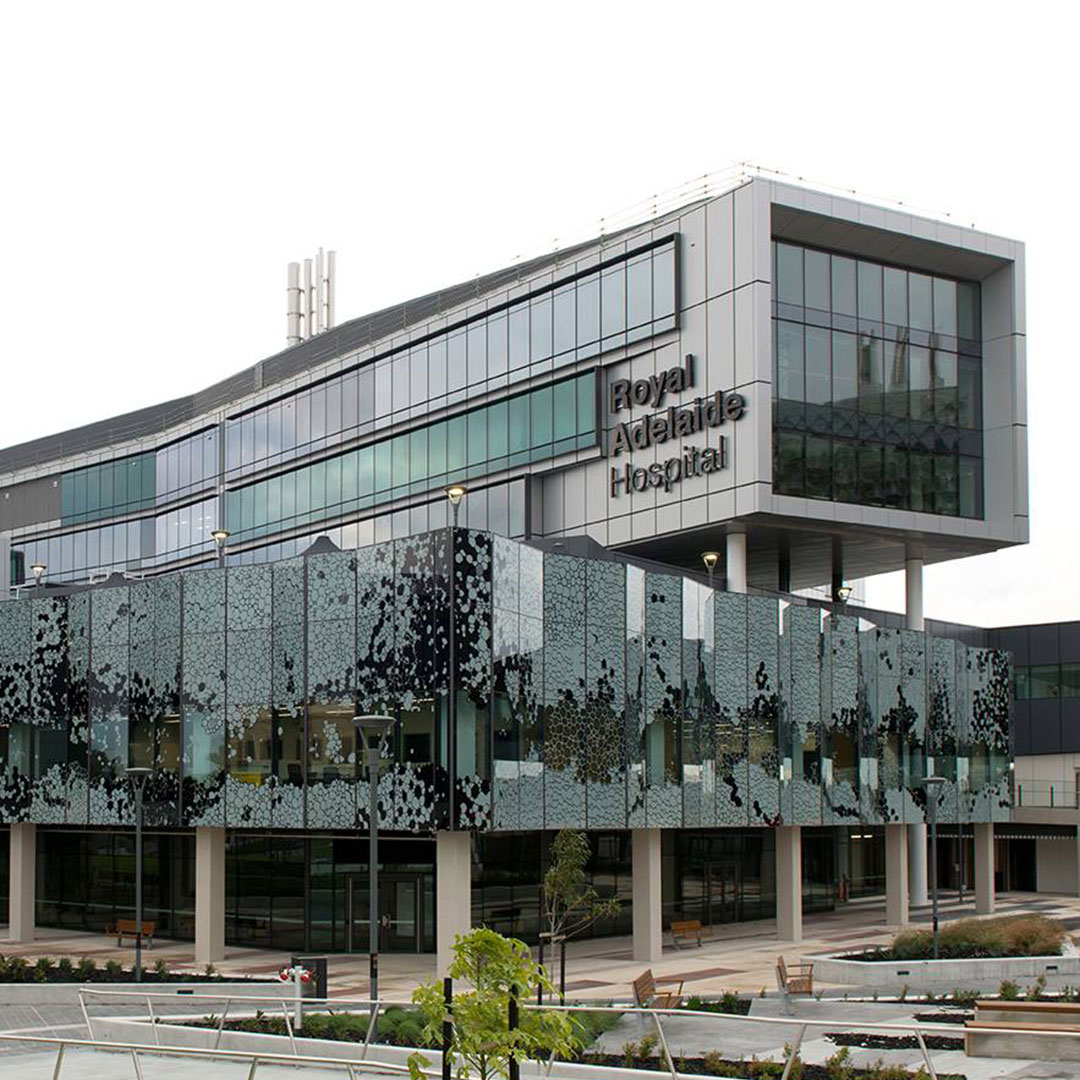 Securing an honourable mention, the Royal Adelaide Hospital, an emblem of Australia's commitment to healthcare, narrowly misses a spot in the prestigious top 10, landing at an impressive 13th position on the list of the world's most expensive buildings.
The Southern Hemisphere's medical marvel, the Royal Adelaide Hospital, a beacon of health nestled in Adelaide, South Australia, with a hefty estimated cost of $2.44 billion. This architectural gem is not just a hospital; it's a testament to the commitment of providing world-class healthcare. With over 800 beds and a state-of-the-art facility, it isn't merely a building but an embodiment of progress in the healthcare domain. The Royal Adelaide Hospital sets the stage for cutting-edge medical treatments while making a bold statement in the world of construction costs.
Did you know: Did you know that the Royal Adelaide Hospital is more than just a healing space? Beyond its role as a healthcare provider, it stands as a hub of innovation, showcasing how the fusion of medical expertise and architectural brilliance can redefine the standards of healthcare infrastructure.
As we explore the world's most expensive buildings, this hospital's significance extends beyond its cost, marking a new era in healthcare design and patient care. The Royal Adelaide Hospital is not just an investment in bricks and mortar; it's an investment in the well-being of the community it serves.
---
Big Buildings, Bigger Construction Challenges: Mastering the Maze of Documentation
In wrapping up our journey through the world's most expensive buildings of 2023, let's not forget the incredible teamwork and dedication behind these architectural marvels. As these buildings stand tall, so does the effort put in by construction teams. And when it comes to handling the massive paperwork at handover, you need a solution like OmTrak to help do the heavy lifting. Without a system like this, the manuals for these structures could fill entire rooms. With the help of a solution like OmTrak, they can be streamlined into a smart PDF, making life easier for everyone involved. Here's to the hard work and the technology making it all possible!